Corporate events, trainings and team-buildings
Do you want to organise a corporate event for your customers, training for your staff or a team-building events?
Our Offerings
We organise the whole Event, included:
Room and technical equipment
Cultural and sport activities
Catering, accommodation
Corporate meetings and trainings
For corporate training in Valtice we are able to offer our own training room with a capacity of 22 people. Alternatively, on your request, we can arrange larger training rooms. During summer months you can take the opportunity to use the pension's courtyard for trainings and other events.
We will supply all necessary technical equipment:
internet connection via Wi-Fi
flip chart
beamer
DVD player and printer
Recommendation: We will supply refreshments for your coffee breaks.
Corporate events
Are you organising a staff social event or a promotional event for your customers ?
Book our wine cellar location for the following:
Wine tasting with a sommelier
Cultural event with traditional folk music
Alternatively, we can arrange beautiful locations at the Valtice château
Recommendation: We can organise the whole event inclusive of catering.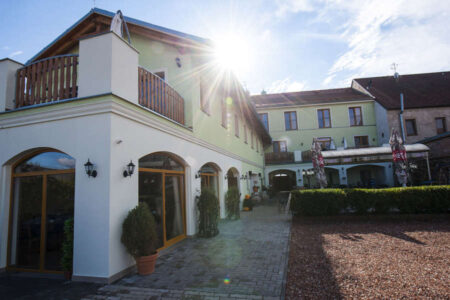 Team-building
Take an advantage of one of the many cultural and sport activities in Valtice, Lednice-Valtice area or in Palava hills:
wine-tasting of Valtice wines
cycling trips in and around Palava hills
cultural events in the historical centre of Valtice
golf tournaments on one of the golf playgrounds close to Valtice
Recommendation: We will prepare tailored-made cultural and sports' events for you and your company.
Price list for corporate events
We will provide the complete service for your event inclusive the catering, accommodation and leisure activities. These all under price conditions based on your specification.
Item
Price
Rent of training room
(in pension location)
CZK 350/hour
Projector rental
CZK 350/day
Coffee break refreshments
(water, juice, coffee, cake,
open sandwich)
from CZK 150/person
---
Request for your corporate event
Individuell pricing and offering!
By sending this form you allow us the internal usage of your personal data.