This unusual tourist attraction was introduced to the Czech Republic from Austria and Germany.
Where does it start and where does it end?
The bare-foot trail is a circular trail of just under 5 kilometres in length.
The trail starts in the neighbouring Austrian village of Schrattenberg and leads towards Valtice pass the romantic structure of the Colonnade .  To start the trail in Valtice you can join it at the Colonnade (number 4 on the map) or by the Museum of The Iron Curtain at the former border crossing Valtice-Schrattenberg (number 5 on the map).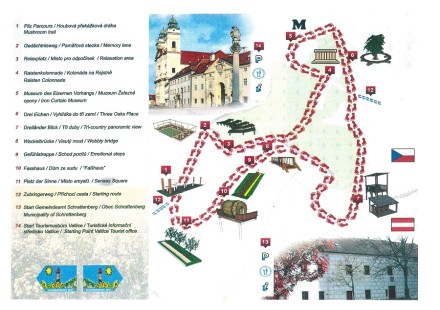 What does the bare-foot trail offer?
You follow a walking trail, in shoes, between 11 stops.  At the stops you can walk bare-foot over tree bark path, pine cones, sand or stones; you can test your balance on a wobbly wooden-beam bridge, or enjoy a view of the surrounding area from the highest point – the Homole hill, whilst relaxing on a wooden lounger.
Why a bare-foot trail? The very motion of walking over different natural materials provides a unique sensory experience.
Something for the children? Yes of course, children can enjoy sliding down a slide made of natural materials.
Something for the peckish ones? Using your own supplies you can take the opportunity to prepare a snack or a lunch on one of the barbecues available at most stops.
More information is available on the trail's official website » go to website.