Lednice-Valtice Area
The Lednice- Valtice area offers fantastic opportunities for walking and cycling sight-seeing trips. We have selected a few sites for your inspiration.
---
The Minaret | Janohrad | The Three Graces | Rendez-Vous | The Colonnade | Apollo's Temple | Nový dvůr | Belveder mansion | The Pond Château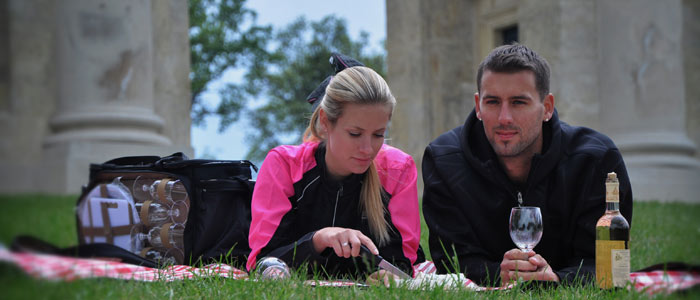 ---
---
Janohrad
This one-storied castle ruin with four corner towers, was built between 1807-1810 according to a design by Josef Hardtmuth. Named Janohrad after the Prince John I, this romantic imitation of a medieval castle had ground-floor kennels and stables used during the princely hunts of that period. Today the site hosts an interesting ornithological and hunting exhibition and is a popular destination for hiking visitors as well as cycling tourists.
---
---
The Colonnade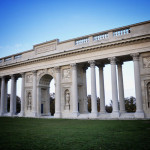 The Colonnade, sometimes called Reisten after the hill Reistna on which it sits, was built by Valtice architect Josef Popollack between 1810-1817 to emulate Vienna's Schonbrunn colonnade. From its roof there are beautiful panoramic views of Mikulov through to the nearby Palava Hills, the Floodplain forests of Lednice,  and the Moravian Field in Austria. The structure was commissioned by Jan I in memory of his father Josef I and his brothers Alois Josef I and Filip and as a celebration of ancestral virtues. Hence the inscriptions 'From Son to Father, Brother to Brothers' and 'The Only Remaining Son to the Unforgettable Ancestors' upon it's façade. During the Cold War, when the Colonnade found itself in the border zone between the East and West, it served as a border patrol point and the entire building was closed to the public. Only the fall of the regime in 1989 re-enabled public access and restoration of this heavily devastated monument.
---
---
Nový dvůr
Not only are the castles and follies evidence of the aesthetic sensibilities of the aristocrats, but also a number of more functional outbuildings as represented, for example, by the Empire style structure Nový dvůr.
---
---
Belveder mansion
This Empire style structure built between 1802 -1806 by architect Josef Hardtmuth was intended as a summer villa and as a picnic spot for the family and guests of prince Jan Josef I. Originally, it also served a more functional purpose when there were aviaries for the breeding of pheasants and peacocks in the yards of the mansion.
---